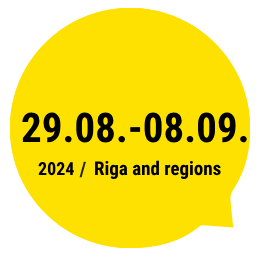 Info
Partners
Urban Heat
Urban Heat is a project developed by the Festivals in Transition (FIT) network of 12 international festival partners and supported by EU programme Creative Europe, which enables artists to engage with the invisible communities within cities. The four year project supports artists to reconnect with the world outside the arts by addressing urgent political and social issues, and by working with audiences and communities affected by those issues. Latvia is represented in the project by theatre and film director Krista Burāne. This year's edition of Homo Novus offers work by Agilan Ratnamohan, Krista Burāne, Andy Field and Rimini Protokoll as part of Urban Heat activities.
[DNA] Departures and Arrivals
[DNA] Departures and Arrivals is a collaboration between 13 European institutions active in the field of contemporary dance. The project is initiated by PARTS, the school for contemporary dance based in Brussels. Through training, presenting and production activities [DNA] encourages the presence of young contemporary dance artists in the European dance scene and helps to sustain their careers. Latvian artists involved in the project are Kristīne Brīniņa and Krišjānis Sants. [DNA] Departures and Arrivals is co-financed by EU programme Creative Europe. New work by Flemish artist Benjamin Vandewalle and Latvian choreographer Kristīne Brīniņa ir part of Homo Novus programme connected to the network activities.

Imagine 2020(2.0)
Imagine 2020 started as a network of 11 European performing arts organizations in 2010 focusing on the climate change issues, social and ecological crisis and its reflection in the arts. Until 2019 we continue with the new Imagine 2020(2.0) network trying to imagine the future and creating alternative models of sustainable living in collaboration with artists and audiences across Europe. The project is supported by EU programme "Culture". Imagine 2020 activities in this year's Homo Novus edition: Concert for Plants by Toms Treinis and Mārtiņš Zariņš, Crazy but True by Ant Hampton, Art of Culture of Hope by Jessica Huber and James Leadbitter and Nomadic School Vol3.