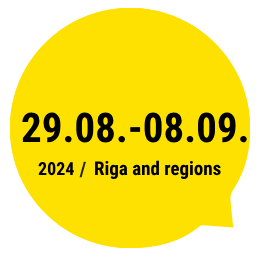 Programme
Language trilogy: Bille in 24 hours
Ahilan Ratnamohan, Matīss Gricmanis
6, 7, 8 September 12.00-20.00, Gallery Istaba | Free admission
Language trilogy is a research by Tamil and Latvian theatre makers Ahilan Ratnamohan and Matīss Gricmanis on the symbolic and social capital of language, and it's role in the society's power relations.
In a gallery space sits a foreigner. For three days and 24 hours she reads the seminal Latvian novel Bille by Vizma Belševica. She has no prior knowledge of Latvian but begins to learn the language, stuttering through the first words of this book, which the audience is thoroughly familiar with. Occasionally she asks their help, beginning to grasp the rudiments of Latvian, its pronunciation and meaning. The audience supports her and guides her, but with or without them she needs to be strong and resolute to complete this task.
About artist
Ahilan Ratnamohan is a theatre maker working with unconventional forms and performers to create cross-disciplinary pieces inspired by sport, film and linguistics. In his early twenties Ahil attempted to make a career as a professional footballer. Since 2007 he creates performance in Australia and Europe. Currently Ahilan is based in Antwerp where he is resident artist at Monty Kultuurfaktorij.
Matīss Gricmanis is Latvian writer, dramaturg and theatre maker. Recently he has revealed his personal experience of being a member of the far-right political party in Latvia in the Dirty Deal Teatro performance To be a nationalist (director Valters Sīlis).
Venuri Perera is a performing artist exploring contemporary approaches to dance-making in Sri Lanka. Inhabiting a space between dance, theatre and live art, she uses her body as a political provocateur and strongly believes in the transformational power of performance.
Credits
Idea, direction: Ahilan Ratnamohan
Dramaturgy: Mātiss Gricmanis
Performance: Venuri Perera
Production: Sandra Lapkovska, New Theatre Institute of Latvia
Premiere on 6 September, 2017
Supported by