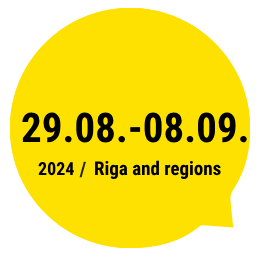 Programme
Cock, cock... Who's there?
Samira Elagoz
2, 3 September 22.00, Zirgu pasts | 10, 7 eur
Cock, cock… who's there? is a documentary performance about violence and intimacy. Samira Elagoz takes us along on a personal research project across three continents – to online platforms and close encounters. She showcases gender relations in their brutal and wonderful ambivalence and reinvents her autonomous expression of sexuality. Confrontational, funny, deeply touching and formally simply virtuoso, the piece explores desire, the power of femininity and the male gaze in a world in which the virtual and the real are inextricably intertwined.
About artist
Samira Elagoz is a Finnish/Egyptian artist based in Amsterdam. She graduated as a choreography BA from Amsterdam University of the Arts in 2016. The same year she received André Veltkamp Award for her performance Cock, cock… who's there? Her first feature film Craigslist Allstars had its premiere at IDFA in November 2016.
Credits
Author, director: Samira Elagoz
Performance: Samira Elagoz, Yuko Takeda, Tashi Iwaoka
Advice: Jeanette Groenendaal, Bruno Listopad, Richard Sand
Sound: David Krooshof
LKA teātra māja Zirgu pasts
Address
Contains adult content that some audience members may find offensive.
* Reduced price for students, seniors, people with disabilities