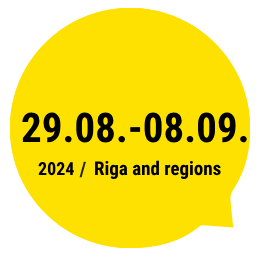 Programme
Film Craiglist Allstars
Samira Elagoz
3 September 18.00, Festival centre @KKC | Free admission
Craigslist Allstars is a postmodern tale of the loneliness of man. Through Craigslist, an internationally active internet network, the director Samira Elagoz arranges one-on-one first encounters with a wide variety of men in three cities and explores how the camera influences intimacy between two strangers. She records herself meeting them and anything that happens in the process. She listens to them, disinhibits them and creates a safe place for them to present their secrets and deepest pains, and we are there to witness this. Every encounter is real and unscripted. Samira weaves her own presence in and out, and becomes part of the narrative. Instead of making a film she enters one.
Craigslist Allstars premiered at IDFA 2016, and was nominated in the main competition at CPH:DOX 2017.
Before the screening – an itroduction by Samira Elagoz.
Performance Cock, cock… Who's there? by Samira Elagoz can be seen at Zirgu pasts on 2, 3 September 22.00.
About artist
Samira Elagoz is a Finnish/Egyptian artist based in Amsterdam. She graduated as a choreography BA from Amsterdam University of the Arts in 2016. The same year she received André Veltkamp Award for her performance Cock, cock… who's there? Her first feature film Craigslist Allstars had its premiere at IDFA in November 2016.
Credits
Director: Samira Elagoz
Script: Samira Elagoz
Cinematography: Samira Elagoz
Editor: Samira Elagoz
Cast: Samira Elagoz
Finland, Netherlands, 2016