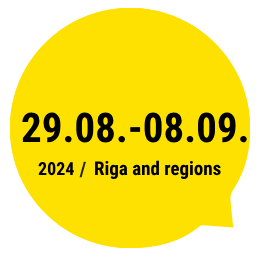 Programme
Film Aurora, a Creative Process
Cosimo Terlizzi
2, 4 September 18.00, Festival centre @KKC | Free admission
Aurora, a creative process is a film-diary by Cosimo Terlizzi about the creation of the contemporary dance piece Aurora by the Italian dancer and choreographer Alessandro Sciarroni. Cosimo Terlizzi follows the choreographer's research and creates an independent art work: a film where the rehearsals of the show and the single stories of the athletes lead to reconsider the sense of sight from a different point of view.
Meet Alessandro Sciarroni before the screening on 4 September at 17.30.
Performance Aurora by Alessandro Sciarroni can be seen at Railway History museum on 2, 3 September, 20.00.
About artist
Cosimo Terlizzi is an italian artist. From the mid-nineties, in Bologna, he develops his art works through the use of different media, from photography to performance and art
video. He also realized short films and feature documentaries that were presented in many international film festivals. The human being in relation with his environment and the search for identity remain Cosimo Terlizzi's main subject of investigation.
Credits
Production: Cosimo Terlizzi with the support of Fondation d'entreprise Hermès in the frame of its program New Settings
Director, editing, camera: Cosimo Terlizzi
2nd camera: Matteo Maffesanti
Original score: Pablo Esbert Lilienfeld
Cast: Alessandro Sciarroni, Alex Alcaras, Alexandre Almeida, Charlotte Hartz, Damien Modolo, Dimitri Bernardi, Emanuele Nicolò, Emmanuel Coutris, Eric Minh Cuoung Castaing, Francesca Foscarini, Marcel Van Beijnen, Matej Ledinek, Matteo Ramponi, Sebastiaan Barneveld, Sergio Lo Gatto, Yanick Bokanta Lungage
Italy, Switzerland, 2015
Language
In French and Italian with English subtitles