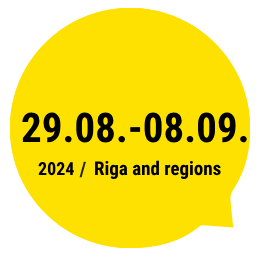 Programme
Language trilogy: The Perfect migrant
Ahilan Ratnamohan, Matīss Gricmanis
6, 7 September 19.00, Ģertrūdes ielas teātris | 7 and 5 eur
Language trilogy is a research by Tamil and Latvian theatre makers Ahilan Ratnamohan and Matīss Gricmanis on the symbolic and social capital of language, and it's role in the society's power relations.
Ahilan Ratnamohan's solo performance The Perfect migrant is created in residence and in consultation with the community. Over a period of three weeks, Ahilan meets with diverse Latvians and Latvian communities. He asks each of them to provide him – both physically and mentally – with what they find essential to being Latvian and living in Latvia. Ahilan learns to cook rye bread soup, use the local public transport and maybe even receives the ring of Namejs, while finding his way in Latvia. At the end of the three weeks – speaking only in Latvian – Ahilan presents the audience with what they have taught him about being Latvian.
About artist
Ahilan Ratnamohan is a theatre maker working with unconventional forms and performers to create cross-disciplinary pieces inspired by sport, film and linguistics. In his early twenties Ahil attempted to make a career as a professional footballer. Since 2007 he creates performance in Australia and Europe. Currently Ahilan is based in Antwerp where he is resident artist at Monty Kultuurfaktorij.
Matīss Gricmanis is Latvian writer, dramaturg and theatre maker. Recently he has revealed his personal experience of being a member of the far-right political party in Latvia in the Dirty Deal Teatro performance To be a nationalist (director Valters Sīlis).
Credits
Idea, direction, performance: Ahilan Ratnamohan
Dramaturgy: Mātiss Gricmanis
Production: Sandra Lapkovska, New Theatre Institute of Latvia
Premiere on 7 September, 2017
Supported by
* Reduced price for students, seniors, people with disabilities