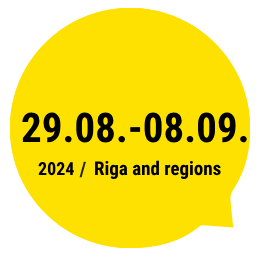 Programme
A Mile in My Shoes
Clare Patey (London)
1-10 September 13:00-16:00, 18:00-21:00 Gallery Alma Tērbatas iela 64 | Free entrance
A Mile in My Shoes is a shoe shop where visitors are invited to walk a mile in someone else's shoes – literally. Contained in a pop-up shoestore resembling giant shoebox this interactive exhibit houses a diverse collection of shoes and audio stories that explore our shared humanity.
The stories range from a surgeon to a sex worker, a florist to a refugee covering different aspects of life, from loss and grief to hope and love. Jointly they build a fascinating landscape that reveals the complexity of being human.
Based on empathy as practice A Mile in My Shoes explore how storytelling can transform our personal relationships to the world and our fellow humans.
About Clare Patey
Clare Patey is director of Empathy Museum, a selection of work exploring empathy as practice, and an award winning artist and curator who creates social spaces in the public realm that bring people together in conversation, participation and celebration.
Clare was the creator and director of the critically acclaimed Museum Of – a five-year participatory museum project on the Southbank, The Ministry of Trying to Do Something About It for the New Economics Foundation, and annually curated Feast on the Bridge for the Thames Festival. Clare is currently part of the collective Edible Utopia who are creating an urban farm at London's Somerset House.
Credits
Author: Clare Patey
Producer of Latvian stories: Adriāna Roze
Production: Arts Admin, Dārta Ceriņa, New Theatre Institute of Latvia
Production assistant: Biruta Elīza Kirmuška
Supported by British Council Latvia, Gallery Alma
Language
In English, Latvian or Russian
Supported by