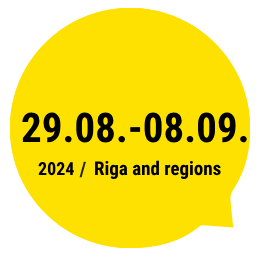 Programme
VINCENT W.J. VAN GERVEN OEI
Talk
3 September 16.00, Festival centre @KKC | Free admission
The talk The Pedagogy of the New World Summit by Vincent W.J. van Gerven Oei will look at the artistic and political organization New World Summit dedicated to providing "alternative parliaments" to the people that currently find themselves excluded from democracy. An important element of the New World Summit is a pedagogical practice in the form of the New World Academy—a progressive political project that looks at the role of art in political struggle. During his talk Vincent will pay particular attention to the collaboration with the Kurdish Women's Movement and the project of Stateless Democracy.
After the talk – a conversation between Vincent W.J. van Gerven Oei and social anthropologist Roberts Ķīlis.
Vincent W.J. van Gerven Oei is a philologist and publisher at independent open-access publisher punctum books, where he also manages Dotawo, the imprint of the Union for Nubian Studies. At home he directs project bureau for the arts and humanities The Department of Eagles, organizing cultural projects in Tirana, Albania. He is also editor of the New World Summit. As a translator, Van Gerven Oei works with anonymous Medieval Nubian scribes among others.
The talk is part of the Festival School – an exchange platform devised by Homo Novus in collaboration with Daniel Blanga Gubbay, aleppo.eu (Brussels), Vincent W.J. van Gerven Oei, New World Summit (Tirana), Ant Hampton and Christophe Meyerhans (Brussels).
Supported by