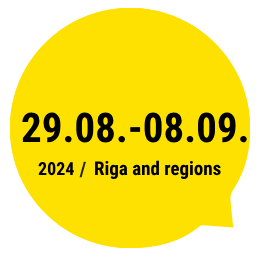 Programme
Party Animals
GolfClayderman (Madona)
28 August 19:00 | Free entrance
Both online and offline we are flooded with heavy load of stereotypes on beauty and successful looks, forcing to compare ourselves to others and consuming with no end. Shall we wait until we are buried by the giant fashion waste avalanche?
Together wiht artist group GolfClayderman young people from Imanta, Mežaparks and Pļavnieki are going to question and challenge the super power of fashion industry by creating alternative collection from materials found in their neighbourhood. They welcome to discover their version on beauty and success in the DIY fashion show Party Animals.
About GolfClayderman
GolfClayderman is a fluid collective founded by artists Margrieta Griestiņa and Aksels Bruks. GolfClayderman has organised several personal exhibitions and cultural events, including MABOCA, Madona contemporary art festival. They work as scenographers and costume designers and have participated as performers in the first full length feature film "Flies" made in GTA V environment. High fashion and it's reflections in everyday and DIY visual culture have always been central to GolfClayderman artistic practice.
Credits
Idea: Margrieta Griestiņa and Aksels Bruks / GolfClayerman
Authors and performers: teenagers from Imanta, Mežaparks, Pļavnieki
Mentors: designer Reinis Krūmiņš, style expert Deniss Ševeļovs
Production: Eva Johansone, New Theatre Institute of Latvia
Implemented as part of ACT: Art, Climate, Transition project
Supported by EU programme Creative Europe and Riga City Council