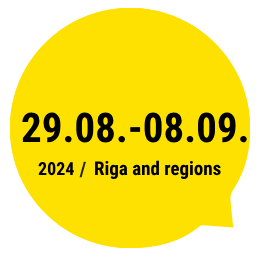 Programme
Question Project
MIL M2 (Santiago)
29-31 August Different times, different places in Riga | Free entrance
The Question Project explores doubt, hypothesis, proposition, uncertainty, and is built on the questions of unknown passer-by. It is a conversation with city dwellers who think in the form of question. What would you ask the city? What would you ask your body? What would you ask the river? What would you ask the history? These are just few of dozens of questions asked to people in different cities around the world by Chilean artist, activist and architect collective MIL M2. The answer is always a question, deliberately avoiding one correct truth.
The Question Project is mobile performance, scenographic installation on wheels that will travel our city during opening weekend of Homo Novus making different voices heard and questions – visible. This event does not happen in exact place and hour. It unfolds gradually taking over different parts of the city in different times of the day. Be attentive and keep your burning question in mind while walking the streets. Perhaps someone will approach you to hear it.
About MIL M2
MIl M2 is Chilean interdisciplinary collective whose first action was to temporary occupy empty spaces with the purpose of activating knowledge exchange and chance encounters. Currently nomads, the collective designs artistic processes that encourage development of civic and political debates on public space.
The goal of MIL M2 is to activate territories and communities through the collective generation of knowledge.
Credits
The Question Project in Riga is implemented by MIL M2: María Constanza Carvajal, Cecilia Moya Rivera, Maria Jose Jaña, Pedro Sepúlveda with the participation of local community.