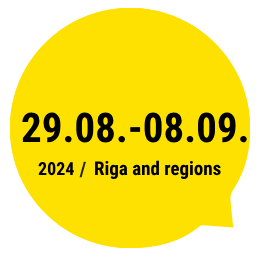 Programme
Sonic Dawn
Different artists
6 September 23.00 Dirty Deal Teatro, Talsu st. 1 | € 20 / € 15
Sonic Dawn is a listening space that unfolds in the space of a fictional night.
The only source of light in the dark room where people lay down, is a screen projecting the color of the sea from late afternoon till the dawn, reduced to pure shade, as a single color changing constantly during the night. It constitutes a fictional passage of time, slightly out of phase in respect with the outside time.
Sonic Dawn is a night where to collectively experience different contributions on the emergence of the unheard. How do we further develop our ability to listen for what is left out, and to what degree are we able to listen to different kinds of voices and intelligences?
From a concert giving voice to non-human elements, to reflections on the ungraspability of sound as form of resistance; until a collective training to discover in one's own mouth the presence of sound belonging to foreign languages, Sonic Dawn invites to a sonic journey – from night till dawn– towards what was not audible and yet there.
During the course of the night spectators can enter and leave between the acts. Ticket includes breakfast.
Credits
Idea and curation: Daniel Blanga Gubbay in collaboration with Gundega Laiviņa and Ibrahim Nehme
Contributors: Catherine Christer Hennix, Brandon LaBelle, Enrico Malatesta, Elsa M'bala, Ana Guedes, Marialena Marouda, Aela Royer, Maurice Stierl / Forensic Oceanography, Raafat Majzoub
Producers: Lelde Prūse, Vyvienne Abla, New Theatre Institute of Latvia
Language
Different languages
Supported by
* Reduced price for students, seniors, people with disabilities