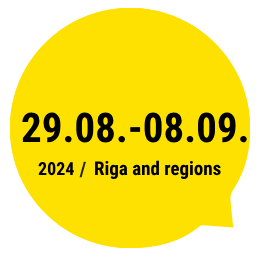 Programme
The Thing. Automatic workshop
Ant Hampton, Christophe Meierhans
4-8 September For registered participants only | For registered participants only
The Thing is an automated and hybrid form between performance, workshop and journey. Over 4 episodes, each about 4 hours long, The Thing takes its participants on an exploration of the overlap between things which matter to the world, and a thing each of us could set into motion at any moment. Doing The Thing is about creating the best possible conditions to take a leap of both faith and imagination, daring to enact another possible version of oneself. To decisively step out of one's comfort zone by, as David Graeber coins it, "insisting on acting as if one is already free." In The Thing, no charismatic leader stands in your way. The only ones present are a group of artists who open a suitcase and follow a wild mix of different triggers as a guide.
Participants of Riga workshop: Melanie Frances Phillips (London), Antra Leite Straume (Riga), Mapengo Námoda (Maputo), Barbara Lehtna (Tallinn), Paulius Markevičius (Vilnius), Ina Sladič (Berlin), Asher Simiso Gamedze (Cape Town) among oters.
Automatic Worksop is part of the Festival School – an exchange platform devised by Homo Novus festival in collaboration with Daniel Blanga Gubbay, aleppo.eu (Brussels), Vincent W.J. van Gerven Oei, New World Summit (Tirana), Ant Hampton and Christophe Meyerhans (Brussels).
About artist
A co-founder of the company Rotozaza, Brussels based British artists And Hampton is best known for his nine Autoteatro works, which deliver instructions to audience members to enact the performances for each other. These works include Rotozaza's Etiquette (2007), and The Quiet Volume, his Bessie award-winning collaboration with Tim Etchells for library reading rooms. Christophe Meierhans works with and within performances, public spaces, installations, sound, music and video. His work consists mainly in developing strategies of intervention in daily life through manipulating conventional agreements, social habits or simple usages.
Credits
Authors: Ant Hampton, Christophe Meierhans
Video production: Luca Mattei
Coding and electronics: Toby Duckworth
Production: Katja Timmerberg
Coproduction: Auawirleben Theaterfestival Bern, Kaaitheater, West Kowloon Cultural Development Hong Kong, Theatre & Dance Department at Iceland Academy of the Arts, Zeitraumexit Mannheim
For registered participants only
Supported by