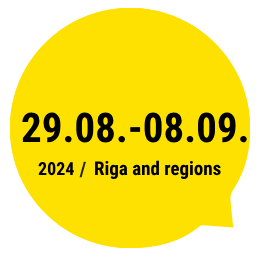 Programme
Aurora
Alessandro Sciarroni
2, 3 September 20.00, Railway history museum | 15 and 10 eur
Aurora focuses on sport and more specifically – Goalball, a Paralympic team sport for the blind and visually impaired. The athletes have only their hearing and touch to rely on. The audience gets to see a real match, but the game-master forces things and thereby disrupts, little by little, the perception of the actors and the audience. By intervening in the sound and lighting, he turns the playground into a dramaturgical field of tension. Space blurs and time slows, while Sciarroni sheds a new light on how we look and what we see. Aurora is the last part in Sciarroni's trilogy Will you still love me tomorrow? that aims to intensify the vulnerability and resilience of bodies.
Meet Alessandro Sciarroni at Festival centre on Skolas 15 before the screening of Cosimo Terlizzi's film Aurora, a creative process on 4 September at 17.30.
About artist
Alessandro Sciarroni is an Italian theatre maker with several years of experience in visual arts and theatre research. His works are featured in contemporary dance and theatre festivals, museums and art galleries, as well as in unconventional spaces and involve professionals from different disciplines. In addition to the rigor, coherence and clarity of each creation, his work tries to uncover obsessions, fears and fragilities of the act of performing, to propose different perception of time and to challenge the relationship between the audience and the performers.
Credits
Author: Alessandro Sciarroni
Performance: Charlotte Hartz, Matej Ledinek, Emanuele Nicolò, Emmanuel Coutris, Alexander Ferreira De Almeida, Marcel van Beijnen, Damien Modolo, Matteo Ramponi
Music: Pablo Esbert Lilienfeld
Lighting design: Valeria Foti, Cosimo Maggini, Alessandro Sciarroni
Visual documentation, dramaturgical collaboration: Cosimo Terlizzi
Artistic collaboration: Francesca Foscarini, Francesca Grilli, Matteo Maffesanti, Eric Minh Cuong Castaing
Dramaturgy, casting: Sergio Lo Gatto
Curator, promotion, consulting: Lisa Gilardino
Administration, executive production: Chiara Fava
Casting, assistance, research: Damien Modolo
Production: MARCHE TEATRO Teatro di Rilevante interesse Culturale
Co-production: Mercat de les Flors, Torinodanza Festival, Kunstenfestivaldesarts – Les Halles de Schaerbeek, Théâtre National de Bretagne – Rennes, Comune di Bassano del Grappa – CSC Centro per la scena contemporanea, as well as Centrale Fies, SZENE Salzburg in the frame of APAP Advancing Performing Arts Project, Espace Malraux Scène Nationale de Chambéry et de la Savoie, Vooruit
With the support of CND – Centre Nationale de la Danse de Pantin, Graner Centre de Creació, Dansehallerne – Copenhagen, Tanzhaus NRW Düsseldorf
Executive production Corpoceleste _C.C.00#
Premiere on 24 October, 2015
Supported by
* Reduced price for students, seniors, people with disabilities