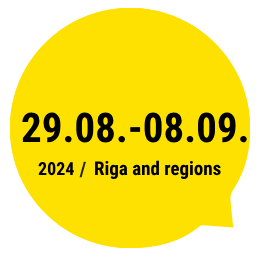 Programme
Crazy but True
Ant Hampton
9 September 16.00-19.00, former Faculty of Biology, University of Latvia | Free admission
Crazy but True is an interactive installation performed by children aged 8-12, who, cast as 'experts', are given their lines via headphones, repeating what they hear, without rehearsal. What results is a rolling list of extraordinary facts – some serious, others very funny. Despite the fun, one thing becomes clear for the adults watching: bringing a child into the world is the easy part. More difficult is how to bring the world into a child.
Audience can enter and leave at any time during the runtime of the performance. Children attending with adults are able to participate on the day. There is no rehearsal. The performance time for each child is 12 minutes. Please note, that in order to perform the piece Latvian language knowledge is required.
About artist
Brussels based British artists And Hampton is best known for his nine Autoteatro works, which deliver instructions to audience members to enact the performances for each other. Hampton's other solo projects include ongoing experimentation around live portraiture and structured encounters with people from non-theatrical milieu. He has been a head dramaturg for Projected Scenarios at Manifesta 7 Biennial for Contemporary Art, and has contributed to projects by Jérôme Bel and Forced Entertainment.
Credits
Author: Ant Hampton
Latvian text and voice: Māra Poļakova
Creative producer: Katja Timmerberg
Coproduction: Artsadmin, Kaaitheater, Rotterdam Schwouburg
With the support of Espacios Revelados, Escenas do Cambio, No Future' Performance Biennial
Local production: Liene Jurgelāne, New Theatre Institute of Latvia
Premiere on 10 June, 2017
Former Faculty of Biology, University of Latvia
Address
Audience can enter and leave at any time during the runtime of the performance.
Supported by