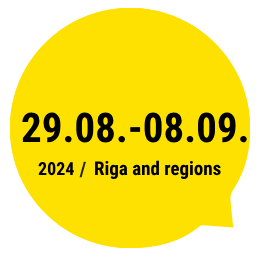 Programme
Folk-s. Will You Still Love Me Tomorrow?
Alessandro Sciarroni
6 September 20.00, Railway history museum | 10 and 7 eur
In Folk-s Alessandro Sciarroni transforms the archaic, repetitive patterns and rhythmic structures of the Bavarian-Austrian folkdance Schuhplattler into in-depth and ironic survey of the strictly regulated traditional dance. Liberated from its context and mechanically repeated it turns into hypnotic experience that explores the true nature of collaboration between the artist and the spectator. Impressive, intelligent and open-ended, it is totally exhausting for the dancers and absolutely exhilarating for the audience. Both spectators and dancers can leave the show at any time without the rights to return. Folk-s is the first part of Sciarroni's trilogy Will you still love me tomorrow? that aims to intensify the vulnerability and resilience of bodies.
About artist
Alessandro Sciarroni is an Italian theatre maker with several years of experience in visual arts and theatre research. His works are featured in contemporary dance and theatre festivals, museums and art galleries, as well as in unconventional spaces and involve professionals from different disciplines. In addition to the rigor, coherence and clarity of each creation, his work tries to uncover obsessions, fears and fragilities of the act of performing, to propose different perception of time and to challenge the relationships between the audience and the performers.
Credits
Author: Alessandro Sciarroni
Performance: Alessandro Sciarroni, Matteo Ramponi, Pablo Esbert Lilienfeld, Marco D'Agostin, Leon Maric, Anna Bragagnolo, Amy Bell
Music, sound design: Pablo Esbert Lilienfeld
Video and images: Matteo Maffesanti
Lighting design: Rocco Giansante
Costumes: Ettore Lombardi
Coaching: Rosemary Butcher
Tecnical care: Cosimo Marggini
Dramaturgical consultant: Antonio Rinaldi
Choreographic consultant: Tearna Schuichplattla
Production director: Marta Morico
Organization: Benedetta Morico
Administration: Luana Milani
Project curator, promotion: Lisa Gilardino
Production: Marche Teatro, Teatro Stabile Pubblico, Progetto Archeo.S – System of Archeological Sites of the Adriatic Seas
In collaboration with: Corpoceleste_C.C.00#, Inteatro, Amat-Civitanova Danza per "Civitanova Casa della Danza", Centrale Fies, ChoreoRoam Europe: Centro per la Scena Contemporanea, Comune di Bassano del Grappa, The Place London, Dansateliers Rotterdam, Dance Week Festival Zagreb, Certamen Coreográfico de Madrid
Premiere on 29 June, 2012
Supported by
* Reduced price for students, seniors, people with disabilities