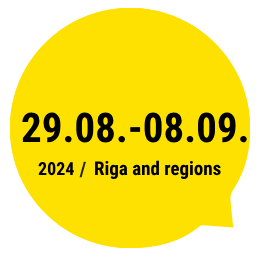 Programme
Hear
Benjamin Vandewalle and Yoann Durant
6 September 18.00, 21.00 VEF chamber hall | 10 and 7* eur
Hear is a sonic choreography which artist Benjamin Vandewalle and composer Yoann Durant each time builds together with a different group of local performers. In Riga they will be joined by the exquisite youth choir Kamēr… to develop a live human soundscape that explores the suggestive power of sound. Visitors are blindfolded and invited into a space to find the floating sculpture of sound created by thirty performers constantly moving, growing and changing. The sound is everywhere all the time.
About artist
Benjamin Vandewalle studied at the Royal Ballet School of Antwerp and graduated at P.A.R.T.S. in Brussels in 2006. In his work he investigates the perception of space and movement and focuses strongly on the experience if spectators. Inter-view (2014) placed visitors face to face unexpectedly with complete strangers, Birdwatching 4×4 (2009) took spectators on tour through the city in a minivan that allowed them to follow dancers and passers-by unnoticed. Vandewalle is now inviting you to an intimate aural experience that tickles your senses.
Benjamin was guest teacher at the KASK Drama Conservatory in Ghent and MUDA dance school. He collaborated with the dance school Nyakaza in South Africa and launched the project Comfusao in Mozambique. Together with philosopher Jan Cnops he runs a series of workshops about dance and philosophy and documentes the process in the films Movements and (un)usual.
Yoann Durant is composer and improviser. He plays the saxophone, custom-built washing-machine tube and garden hose, acoustic and electrified. He holds MA in jazz and improvised music from the Conservatoire National Supérieur de Musique et de Danse de Paris. He also studied contemporary music and Northern Indian music.
Yoann Durant practices a double reading of sound in his compositions. He considers both a sound in itself, in its solitude, as well as its inherent articulation in relation to other sounds, to space, to body, and to breath.
He has created performances as the solo seul and the group performance sousentendu, as well as tours internationally with bands like OO, Rétroviseur and Irène and artists like Marten Spangberg, Andrea Neumann, Tim Berne, Perrine Bailleux.
Credits
Concept, creation, composition: Benjamin Vandewalle, Yoann Durant
Performance: youth choir "Kamēr…"
External ears: Peter Lenaerts, Sunna Ardal, Leonie Persyn, Samir Hachichi, Nadira Hachichi, Sarah Klenes
Executive production: Caravan Production (Brussel, BE)
Co-production: Kunstencentrum Vooruit (Gent, BE) & Trafó (Budapest, HU) in the frame of the European Network [DNA] DEPARTURES AND ARRIVALS co-funded by the Creative Europe Program of the European Union, Kaaitheater (Brussel, BE), TAKT Dommelhof (Neerpelt, BE), Lieux Publics (Marseille, FR)
Residencies: La Strada (Graz, AT), workspacebrussels (Brussel, BE), Kaaitheater (Brussel, BE), Vooruit (Gent, BE) With the support of the Flemish Authorities
Supported by
* Reduced price for students, seniors, people with disabilities