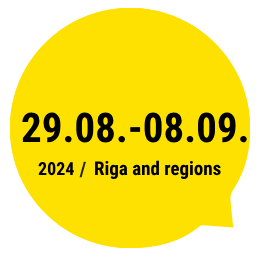 Programme
BePart Fieldworks
Neil Callaghan & Simone Kenyon
In 2021 To be announced | To be announced
As part of the BE PART (Art BEyond PARTicipation) international project, Scottish artists Neil Callaghan and Simone Kenyon will spend two month in Cīrava, Aizpute region of Latvia, working with local communities, finding fresh ways to engage with a place, which might mean working with people who already have a very specific relationship to that environment. BE PART is an international organisational development project in the field of participatory art practices, that the New theatre Institute of Latvia is part of.
"We are interested in our role as outsiders; what we can bring whilst being conscious of our position. We don't know if our role will be to invite, provoke, instigate or shepherd a process but we are fiercely curious about what we can create this summer." The work created jointly with the community of Cīrava forests will be shown at this year's Homo Novus festival.
About artist
Neil Callaghan & Simone Kenyon have been in an ongoing partnership since 2006. Their work moves between dance, visual art and performance, and takes place in conventional theatres and galleries as well as specific sites and journeys through landscapes. At the heart of their work is a deep interest in the physical experience of the audience and place. The artists invite audiences to engage in the heightened perception of a shared moment and explore their surroundings in new and surprising ways, or witness delicate and risky situations in performative environments. Their work has previously been shown Internationally and across the UK at Hayward Gallery, Sadlers Wells, Somerset House, Hepworth Gallery, amongst others. Their curation of the Distance Festival alongside Joon Lynn Goh in 2010 brought them to Riga to present the programme within the Homo Novus festival.