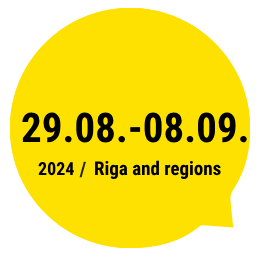 Programme
The Second nature
Project by Aleppo
8 September 18.00-21.00, Biķernieku forest | Free admission
How can we think ecology beyond the division between human and non human? Moving from the perspectives of First Nations this programme opens a reflection on an expanded idea of ecology. What is excluded from the right of protection in Western ecology, and its following the sharp and artificial division of nature and culture? Merging different ways of thinking (words, sound, image) this programme discloses the interconnection of feminist, indigenous and queer perspectives on nature, to centre what Mirko Nikolić defines the possibility of minoritarian ecologies. The programme invites to the sound listening and theory session by Elin Már Øyen Vister / mirko nikolić / Alex Wilson / Larval Rock Stars and a screening by Melanie Bonajo.
18.00-20.00

Eco-Poetics & Bioethics for a Pluriverse in Transit with Elin Már Øyen Vister / Mirko Nikolić / Alex Wilson / Larval Rock Stars
Elin Már Øyen Vister is an artist who works with sound, installations, performance, experimental music, sculptural elements, organic matter and text. Her work focuses on the nature / culture dichotomy, climate issues, interhuman relationships, body and gender, approached from a postcolonial feminist and queer ecological perspective, where theory and practice are given equal importance. For The Second Nature Elin proposes two interventions, a sound-scape on the project she develops in Røst, where she lives; and a collective theoretical intervention on minoritarian ecologies brought by mirko nikolić / Alex Wilson / Larval Rock Stars.


20.00-21.00
Night Soil — Nocturnal Gardening
A film by Melanie Bonajo, 2016
Nocturnal Gardening considers how communities come together through alternative and pre-colonial uses of land. Structured around four central storylines – portraits of four women living by alternative norms, the video explores indigenous land rights, off-the-grid subsistence, racism and injustice in the food system and the consequences of consumer behaviour on farm animals.
Dutch film and performance artist Melanie Bonajo explores the spiritual emptiness of her generation, examines peoples' shifting relationship with nature and tries to understand existential questions by reflecting on our domestic situation, ideas around classification, concepts of home, gender and attitudes towards value.
The Second Nature is project by Aleppo (Brussels) curator by Daniel Blanga Gubbay – a researcher in political philosophy and performance. After graduating in philosophy from the Venice University of Architecture with Giorgio Agamben, and while working with him, he got a European Ph.D. in Cultural Studies, jointly run by the University of Palermo, Valencia and Freie Unversität Berlin. He currently teaches political philosophy at the Brussels Art Academy and he is the founder of Aleppo, a space for researches in political philosophy in collaboration with art institutions.
The Second Nature is part of the Festival School – an exchange platform devised by Homo Novus festival in collaboration with Daniel Blanga Gubbay, aleppo.eu (Brussels), Vincent W.J. van Gerven Oei, New World Summit (Tirana), Ant Hampton and Christophe Meyerhans (Brussels).
Address
To reach the location by public transport from the city centre take bus no. 1, 14, 40 till stop "Šmerļa iela"+ walk for 5 min OR Tram no. 1, 3, 6 till stop "Sporta akadēmija" + walk for 4 min
Supported by