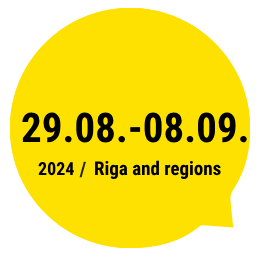 Programme
Speak!
Sanja Mitrović
8 September 20.00, Railway history museum | 9 September 17.00, Railway history museum | 15 and 10 eur
In Speak! Sanja Mitrović explores the meaning, impact and manipulative potential of language by taking a look at political speeches delivered in public during the past 120 years. The speeches are exciting both as performances and for their historical import, since they swayed public opinion at particular moments in history. Prominent public addresses by various historical figures including freedom fighters, humanists, revolutionaries, mass murderers and dictators are brought back to life. The two performers face each other in a head-to-head duel to seduce the audience, win them over and convince them. The spectators judge who is the winner of this rhetorical combat. The allure and histrionic composition of political rhetoric comes under scrutiny.
About artist
Serbian theatre director, performer, writer, and lecturer Sanja Mitrović graduated in Japanese language and literature from the Belgrade University, and in Mime Studies from Amsterdam University of the Arts. She is artistic director of Stand Up Tall Productions, which she founded in 2009. In her work, Mitrović explores theatre's relation to the social, political and cultural realities of our times.
Credits
Concept, direction and choreography: Sanja Mitrović
With: Sanja Mitrović, Jorre Vandenbussche
Stage and Lighting Design: Laurent Liefooghe, Christophe Antipas (LLAC Architects)
Costume Design: Frédérick Denis
Sound Design: Luka Ivanovic
Dramaturgy: Jonas Rutgeerts
A production by Stand Up Tall Productions
Co-produced by Kunstenfestivaldesarts
Supported by: Beursschouwburg, Pianofabriek Kunstenwerklplaats, SPRING Festival, STUK Kunstencentrum, The Amsterdam Fund for the Arts
Premiere on 9 May, 2013
Language
In English with Latvian surtitles
* Reduced price for students, seniors, people with disabilities