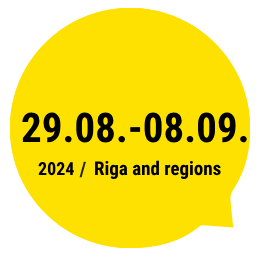 Programme
Voicing Pieces
Begüm Erciyas
2, 3, 9 September 14.00-22.00 Ģertrūdes ielas teātris | 4, 6, 7, 8 September 17.00-22.00 Ģertrūdes ielas teātris | 7 and 5 eur
In Voicing Pieces your own voice is staged to become the protagonist. In the intimacy of an isolated scenographic structure, guided by a simple score, the audience becomes spectator of their own voice. The act of speaking and simultaneously hearing one's own voice turns into a theatrical and choreographic experience, sculpted anew with each individual interpretation of the score. The voice becomes a place for action, a spectacle and a surprise. Rather than recognizing yourself in the stranger, Voicing Pieces is an invitation to recognize the stranger in yourself, that is your own voice!
About artist
Begüm Erciyas lives and works as a choreographer in Berlin. While still studying molecular biology and genetics in Ankara Erciyas took part in several dance projects and became a member of the [laboratuar] performance collective. She subsequently studied at the Salzburg Experimental Academy of Dance. The world created by Begüm is the place for imagination, transformation and challenge where the main protagonist has multiple identities, but material world, light and sound are as important as humans on stage.
Matthias Meppelink studied at the Institute for Applied Theatre Studies at Justus-Liebig University in Gießen between 2003 and 2008. He is a founding member of the performance group Monster Truck and works as a musician and light designer in different constellations. He regularly collaborates with Boris Nikitin, Marcel Schwald, Susanne Zaun, and Cecilie Ullerup Schmidt. He has been living in Berlin since 2008.
Credits
Concept: Begüm Erciyas
Realization: Matthias Meppelink and Begüm Erciyas
Dramaturgy: Marnix Rummens
Text: Matthias Meppelink, Begüm Erciyas, Jacob Wren
Live-operators: Begüm Erciyas, Marc Melià, Reinis Semēvics
Set Realization: Tim Vanhentenryk, Lena Buchwald, Barbara Greiner
Artistic collaboration: Jean-Baptiste Veyret-Logerias
Production Management and PR: Barbara Greiner
Production: Begüm Erciyas, Platform 0090
Coproduction: wpZimmer, STUK Leuven, Tanzfabrik Berlin/ Tanznacht
Research Support/ Residency: Kunstencentrum BUDA Kortrijk, Q-O2, FrankfurtLAB, Tanzrecherche NRW, Goethe Institut – Villa Kamogawa
Supported by Hauptstadkulturfonds Berlin
Premiere on 19 May, 2016
Address
For one spectator at a time. Entrance every 15 min.
* Reduced price for students, seniors, people with disabilities