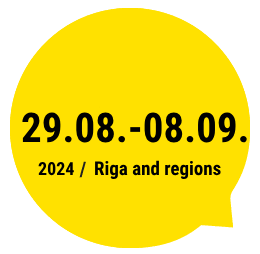 Programme
BLIND DATES Riga meets Bremen (and vice versa)
Schwankhalle (Germany)
02.09., 03.09., 04.09. 12:00–22:00, Kaļķu iela 24-1, Rīga | 5 EUR
Two countries, two Hanseatic cities, two vibrant art scenes: Bremen and Riga are twin towns. In this year's festival edition, their kinship will be celebrated with an invigorating artistic exchange: Bremen's performance and production venue Schwankhalle is in town to set up the Riga audience with eight artists from Bremen's independent performing arts scene.
In eight 15-minute-pieces for one performer and one spectator at a time, the audience gets to meet a fortune teller, a Baile Funk tutor, an urban dancer, and a humanoid AI, amongst others. They join a queer family gathering (for two!), become part of a contact-free contact improvisation or enjoy a cup of tea while receiving their very own movement score.
Performances are randomly selected for the audience, so everyone has their own unique combination of 'Blind Dates'. We recommend booking several performances in a row and take a dive into Bremen's diverse performing arts scene!


Accessibility
Please get in touch with the festival crew so we can tailor the expierience to your accessibility needs.
Simone Ehlen
Queering Family Portraits
Queering Family Portraits is an invitation to a family fest on a par—and with a rainbow tablecloth. In conversations, we break with stereotyped images of the family and invent new traditions. We reveal well-kept family secrets, try out (loved and hated) family recipes and spice them in a new way. We retrace queer family trees and fill the walls with photos of our chosen families.
(In English or German)
Simone Ehlen is a performer, freelance theater-maker and workshop head who has been working with CHICKS* freies performancekollektiv since 2017. She creates interactive, consensual encounter formats from a queer feminist perspective and includes experiences gained in social work. She studied literature and social sciences at the Ruhr-Universität Bochum.
Riccardo Castagnola
Be – still – tell me…
Let's not talk about our dreams but follow their traces! An interactive table between performers and spectators becomes a door leading into a world of memories and associations. Like in a game of chess, we move digital, visual and acoustic symbols on the surface between us. With a choreography of micro-gestures, we create joint image and sound compositions and communicate with each other in an associative manner. After 15 minutes, we say goodbye to each other with a symbolic object.
(Multimedia performance without words)
Riccardo Castagnola is a performer, composer and multimedia artist focusing on sound, interaction, light, bodies, and video. He regularly cooperates with international institutions and dance theater ensembles such as Tempo Reale (IT), Theater Bremen, TanzKollektivBremen. Since 2018 he has been working as a lecturer for sound, installation and interactivity at art universities in Bremen and Bremerhaven.
Magali Sander Fett
Baile Funk
Baile funk is a dance style from the favelas of Rio de Janeiro. Its "passinhos" (dance steps) awaken the desire to dance together and are simultaneously cultural forms of expression of a certain social group. What happens when an outsider immerses into this scene and learns the steps?
(Dance performance without words)
The Brazilian Magali Sander Fett belongs to the ensemble of the Bremer Tanztheater and is a founding member of the TanzKollektivBremen. She is interested in choreographically dealing with reality in contact with other milieus. For example, in her production "And now with music," she worked with the Latin formation Grün Gold Club Bremen, and for "Kick & Rush!" she developed a dance performance on the soccer field.
Jan van Hasselt
The Improvement of the Middle Europe
Feel free to speak with the Commissioner for the Improvement of the Middle Europe. He will give you answers. Is it a human or a bot? Does he have something to do with AI? At any rate, there's a sunset.
(In English, German, Latvian)
Jan van Hasselt lives as an author, musician and filmmaker in Bremen. His works are often situated on the boundary between documentation and speculative fiction. In the theater, he uses (partially antiquated or fictive) media technologies and reflects on the way they are handled.
Alexandra Llorens
Fortune Teller
The lovers, the fool, justice, death… 14 tarot cards are the starting point of this one-on-one performance. ›Fortune Telle‹ invites the audience to look at one's own biography from a different perspective. How do we deal with the topics that the cards transport? What is the meaning of love, death, nature, and power for each of us? And how strongly is our perception of the world shaped by our cultural background?
(In English, Latvian)
Alexandra Llorens was born in France in 1991 and studied dance, theater and cinema. From 2018 till 2022 she has been part of Unusual Symptoms Cie for the productions of HODWORKS, Nuria Guiu Sagarra, Mate Meszaros, Gintersdorfer/Klaßen, Samir Akika and Faye Driscoll. Beside her work as a performer Alexandra develops her own projects in collaboration with other artists.
Birgit Freitag & Neus Ledesma Vidal
Close Up
The performer Neus Ledesma Vidal invites members of the audience to a meet and drink tea. Peppermint tea, black tea, hibiscus tea… While the tea is brewing, Neus collects information on her vis-à-vis that becomes a score for a personal, danced portrait. A gift for everyone older than 8 who can imagine entering into the uncertainty of a one-on-one performance.
(Performance/dance in English)
Birgit Freitag works as a freelance choreographer in various constellations at the intersection of dance, theater and performative formats. Besides her freelance work, Birgit Freitag also produces and creates choreographies for different municipal and state theaters.
Neus Ledesma Vidal is a choreographer and performer from Barcelona currently living and working in Bremen. Her work in interdisciplinary collaborations deals with identity and biography, feminism and the relationship between text and movement.
Reza Nouri Arfae
Room, Space and Void
This work focuses on the theme of space. What space do we take for ourselves and what space is given to us? How are we impacted by the lack of space and what effects does social distancing have on us and our personal sphere? Using urban dance, influences from contemporary dance and Latin American dances, the performance shares new and painfully missed spatial experiences of the past years.
Reza Nouri Arfae has been very active for almost 18 years in the area of urban dance, especially breaking, and is now also a member of the Breaking Kader Bremen.
With his dance group B-Boy Trip, he participated in the largest national events and gained international experience in competitive breaking. Through various dance theater projects, he has been able to expand his repertoire by contemporary dance and now combines the various dance styles in his movement language.
Karl Rummel
Contact
Two persons support each other with their own body weight. There is a Plexiglas pane between them. Both can move about freely together in the space. Both find variations of positions in which they can jointly move and retain the surface. Maybe a dance will ensue, maybe a sculpture. The outcome is open, the 15-minute process remains spontaneous and improvised.
(The performance itself is nonverbal, a short exchange at the beginning can be in English or German)
Karl Rummel, born in 1993, studied integrated design at the University of the Arts Bremen. He works in a cross-disciplinary way in the fields of design, photography, installation, and performance and collaborates with artists such as Ivo Dimchev, Emily Roysdon, Edit Kaldor, and Samir Akika. Karl Rummel created the stage design for Akika's piece "Will happiness find me?" at Theater Bremen.
About artists
The Schwankhalle Bremen is a performance and production venue for the independent performing arts. The building on the grounds of the former Remmer brewery in the Bremer Neustadt opened in 2003 and was operated by various actors and associations of the Bremen scene until the summer of 2015. Since its reopening under a new direction in September 2015, the Schwankhalle has become a laboratory and working space for local, national and international projects and co-operations. The new concept is based on the idea and tradition of the artists' residency providing artists with time, space and support for transdisciplinary and self-determined research, advanced training and development in an inspiring environment.
The Schwankhalle offers two fully equipped theatre halls with a capacity of 120 and 80 seats, rehearsal stages and accommodations for guests. Since 2012, the supporting association Neugier e.V. as the operator and organiser has been funded with 818.670 Euros annually from Bremen's Senator of Culture.
The Schwankhalle is part of the networks NFT and freischwimmen within the programme ›Verbindungen fördern‹ and is a member of the LafdK Bremen as well as klangpol – Netzwerk Neue Musik Nordwest. Together with the Theater Bremen, the Schwankhalle organizes the biennial Performing Arts Festival OUTNOW!
CAST
Artists: Schwankhalle
Performances by & with: Riccardo Castagnola, Simone Ehlen, Birgit Freitag & Neus Ledesma Vidal, Jan van Hasselt, Alexandra Llorens, Reza Nouri Arfae, Karl Rummel, Magali Sander Fett
Production management: Birte Neumann
Production Assistant: Arnita Jaunsubrēna
Producers: Schwankhalle Bremen, Homo Novus festival, Goethe Institut Riga
Kaļķu iela 24-1, Rīga
Opening night toast – 02.09. / 18:00
8 different relaxed performances
in English (with Latvian subtitles or no text)
15 min (each performance)