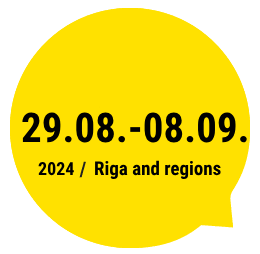 Programme
The Guxxi Fabrika
The Guxxi Fabrika (Chile/Germany, Latvia)
2.09., 3.09., 4.09., 6.09., 7.09., 8.09., 9.09., 10.09., 11.09. Festival centre | Free entry
How would it be to do what you want and at the end of the day get something in return? This question was asked by the participants of the pop-up sweatshop or alternative production space generating fashion products without apparent commercial value. The collective The Guxxi Fabrika was born in Vidzemes tirgus market in Riga during Homo Novus 2021. Behind the large windows of the market's kiosk, and watched by the by-passers all day long, the collective started their intimidating and challenging experimentation with creative freedom that invited everyone to reflect on concepts such as value, cost, and working conditions in the mass production system.
The Guxxi Fabrika is working with love and respect, trying every day to discover how to make something new and share this experience with others. People can join as they want or negotiate a barter to get something from The Guxxi Fabrika. The value of the products goes up with the demand, so the customers have to be inventive and generous. But one thing is guaranteed – you will meet people, hear stories, and better understand the origins of your surroundings while immersing yourself in the trance of mechanical work and becoming a performer of The Guxxi Fabrika.


Accessibility
Please get in touch with the festival crew so we can tailor the expierience to your accessibility needs.
About artists
The collective is composed of four people who participate as horizontal collaborators, none of the people knew each other at the beginning, they all have different professions and ages. Our goal is to try to reclaim the right to question old ways of understanding what surrounds us and propose political/social alternatives that are based on fun, because it has to be a right to have fun working, and we invite the people around us to be part of it.
There are two members who have children and the other two have dogs; three of team live in Riga and one in Berlin; only three speak Latvian; they have a variety of zodiac signs such as cancer, aries, sagittarius and scorpio, only one is a vegetarian – the one who lives in Berlin (a bit obvious). They really enjoy working together in silence or with music, most of the team likes the same kind of music, something like 80s rock and greatest hits so we can sing together.
CAST
Concept: Cote Jaña Zuñiga
Artist collective: The Guxxi Fabrika (Cote Jaña Zuñiga, Klinta Šinta, Anta Pole, Marta Rubene)
Producer: Ieva Briede
Implemented as part of project BE PART. Supported by EU programme Creative Europe.
2-11 September
(Closed – 5, 10 September)
Anyone may visit "The Guxxi Fabrika" during working hours and place an order. To receive the order you must confirm a date and time individually with the artists in the centre.
in English, Spanish, Latvian
Co-working space with the audience