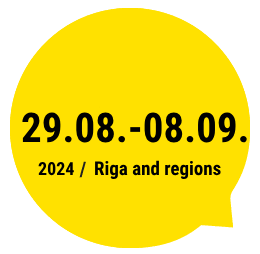 Programme
Ukrainian nights
Laura Čaupale,Tatjana Ibraimova
07.09., 08.09. Festival centre, 21:00 | Free entry (The number of places is limited, please arrive on time)
07.09. 21:00-23:00 Ukrainian nights: dinner stories "RETURN WITH A DREAM" invites visitors to the festival centre to revive the traditions of Ukrainian cuisine together with Ukrainian women and discover the life story of each woman. In the course of the evening, we will openly talk about how life has changed by the war – about how it started, who stayed at home, whether they managed to settle here, as well as how beliefs and values have changed. Olena from Poltava, Natalya from Kropivnitsky, two Tatyanas from Kharkiv, Antonina from Odessa, Lana from Rivne, Valentina and Yaroslava from Kyiv, Irina from Izyaslov, Ludmila and Irina from Brovari take part in the story. Director Laura Čaupale.
08.09. 21:00-23:00 Ukrainian nights: songs and stories with Tatjana Ibraimova and other women who came to Latvia fleeing the war in Ukraine.
The Ukrainian night began for all of us on February 24 at 4 a.m. We've all been waiting for the sunrise ever since. This new sun will become a symbol of our victory over darkness and evil. We invite you to a performance dedicated to teh children of war and their parents, to the birth of the sun, accompanied by Ukrainian songs and lullabies, prepared for you by war refugees from Ukraine.
Created together with "Borščs – vakariņas pie ukrainietēm", Community center for Ukrainians in Riga "Common ground".
Implemented as part of Magic Carpets project. Supported by EU programme Creative Europe.
Free entry. The number of places is limited, please arrive on time.
Magic Carpets is a network that includes biennials, triennials, festivals, organisations, institutes, creative spaces, bottom-up initiatives, and other producers of cultural events, with a total of 19 Platform Members from 19 different European Union and candidate countries. Members that create opportunities for emerging artists to embark on journeys to unknown lands and to create, together with local artists and local communities, new works that highlight local specificities and compensate for the shortage of story-telling existing in modern society by enhancing cultural accessibility, cultural activism, and participation.
Magic Carpets partners believe that art no longer has the luxury to be decorative. It is a powerful tool to reach human thoughts and beliefs, shake them to their core and introduce new ideas and possibilities. And, at times, art can be a tool for social inclusion. In 2022 the New Theatre Institute of Latvia (NTIL) is offering short residencies for 3 international artists to work in close collaboration with 3 local artists and communities in Riga – "Ukrainian Nights" with Laura Čaupale, Tatjana Ibraimova, which takes place during the "Homo Novus" festival, and the residency works of Līga Ūbele and Andrejs Strokins, launched during the festival.
Festival centre
Free entry (The number of places is limited, please arrive on time)
In Russian / Ukrainian with translation in Latvian / English