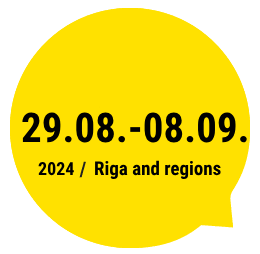 Programme
HOMO NOVUS SHAKE DOWN
Teenage curators programme (Latvia, Norway)
9.09., 10.09. Brīvības iela 109, Rīga (entrance from Palīdzības street) | Free entry
The Homo Novus Shake Down is a two-day program of performances and events independently created by 10 teenagers from Latvia and Norway.
It is the result of an incredible mentoring program, started at the beginning of 2022 by The New Theater Institute of Latvia, in cooperation with the Norwegian Rosendal Teater. The program aimed to bring urgently needed voice and agency to the people whose futures will be most directly impacted by current political decisions and cultural developments.
These young artists and curators use performance and the festival medium to re-route the conversations taking place if not, for a moment, take over their cities. In this part of the festival, teenagers explore the topic of nostalgia. But what is young anyway? What is age? Where does reality end and memory begin?
SEPTEMBER 9
16:46 Performative door opening
17:30 Opening address by Shake Down curators
17:45–21:00 Video retrospective of performance Me Me Generation by Elmārs Seņkovs (2015)
18:00-21:00 Hair – Stuck in Time – interactive performance with hair loss and immortalization (by appointment with hairdresser)
19:30 Nostalgic DJ set with Dj Afterglow or Māra Priedklans (Australia)
21:00 Party with DJ Bush Hartshorn (UK) and Katrīna Vēvere (Latvia)
SEPTEMBER 10
11:00 Video retrospective of performances ("Ten Minutes Older" by Hercs Franks (1978), "Emil and Detectives" by Ģirts Šolis (2014))
13:00–15:00 Video retrospective of performance "Mio min Mio" from Riks Teatret (Norway, 2021) production with simultaneous translation in Latvian
14:00–21:00 Hair – Stuck in Time – inter- active performance with hair loss and immortalization (by appointment with hairdresser)
15:00–16:00 Artist talk with Shake Down curators
16:00 – 18:00 Video retrospective of performance "Brand" by Arnolds Liniņš (1975)
20:00-21:00 Puppet theatre show for adults "Me – Benjamin Button" by Edgars Niklasons (2022)
21:20-23:00 Special screening "Bridges of time" by Audrius Stonys, Kristīne Briede (2018)
21:30-23:00 Fictive closing ceremony ceremonija
More information on: the-shake-down.com

Team
Curators: Alberts Roze, Annie Strand Mølster, Estere Dimitere, Hedda Osmo Rohde, Ikars Graždanovičs, Karu Treij, Margit Adde, Nikolai Furseth Rushfeldt, Samuels Ozoliņš, Zahida Kardou
Artists: Kristīne Kutepova with the team of Riga social care center "Gailezers", Aljoša Lovrić Krapež, Kirstine Nielsen, Carmen Lee, Snæfríður Sól Gunnarsdóttir, Anna Lūcija, Astrīda, Austris, Eižens, Emma, Ernests, Linda, Simons, Cote Jaña Zuñiga, Sigita Birzniece, Daija Lī, Vlads Saveļjevs, Linda Ivanova, Diāna Serga, Lība Bērziņa, Bush Hartshorn, Māra Priedkalns, Katrīna Vēvere, Edgars Niklasons, Artūrs Putniņš, Staņislavs Kuļikovs, Māra Brīvere, Elīza Dombrovska, Kirils Ēcis, Gerds Lapoška, Anna Klišāne, Ivars Krasts, Jurģis Lūsis, Kristiāna Bērza, Niks Cipruss
Mentors: Santa Remere, Sodja Zupanc–Lotker, Marta Keil, Asgerdur Gunnarsdottir
Producer: Sandra Liepiņa
Technical producer: Jurģis Tūbelis
Creators of the project and producers: Sandra Lapkovska (New Theatre Institute of Latvia), Tonje Wik Olaussen (Rosendal Teater)
Thanks to the Valmiera Summer Theater Festival, MADARA Cosmetics and Silmachy cosmetics
uropean Economic Area (EEA) Grants Financial Mechanism funding period 2014. – 2021. program "Local Development, Poverty Reduction, and Cultural Cooperation" open call "Support for the Creation of Professional Art and Cultural Products for Children and Youth". "The Shake Down" total eligible costs are € 249 635,00. The project benefits from a € 212 189,75 grant from Iceland, Liechtenstein and Norway through the EEA Grants and € 37 445,25 from national co-financing. Working together for a green, competitive and inclusive Europe! For more information, please visit eeagrants.org
09.09. 16:46-23:00, 10.09. 10:55-23:00
Brīvības iela 109, Rīga (entrance from Palīdzības street)