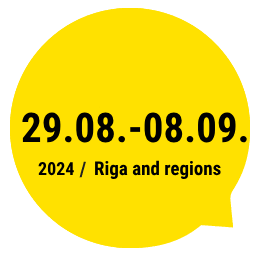 Festival centre
The Festival Centre Programme kicks off on 01.09. with an Opening Night party – featuring Casino Latvia residents SIXTH & DJ Henrijs Laķis, DJ Wrinkle. Over the next eight days, an incredible diversity of events, parties, talks, workshops and gatherings will take place! Everything is free, everyone is welcome!
Accessible for audiences with mobility impairments (mobile stairclimber). More about facilities on: https://homonovus.lv/eng/accessibility
Friday 01.09.
Homo Novus Opening Party from 20:00 featuring SIXTH & DJ Henrijs Laķis, DJ Wrinkle.
Saturday 02.09.
Accessibility Day. 11:00–15:00 discussion Access to Culture in Latvia, sensory lunch, talks, discussion about inclusion and diversity in culture with Filip Pawlak (PL), presentation by the association Culture Access Latvia. Evening programme from 19:00 with sit-in show by Baiba Baikovska, Diāna Ponaskova, Līga Ķikute (LV) and DJ Richy Rich.
Sunday 03.09.
From 20:00 Deep Soulful Sweats with dance artists Sarah Aiken and Rebecca Jensen (AU). Free with registration. You can stay after the performance and continue dancing.
Monday 04.09.
CLOSED
Tuesday 05.09.
CLOSED
Wednesday 06.09.
BE PART Symposium. Day one: featuring Keynote from Darren O'Donnel (CA) & Panel from our youngest curators (LV) from 14:00. ATLAS (BE) will launch their new publication in a glorious party from 20:00.
Thursday 07.09.
BE PART Symposium. Day two: 10:00 Keynote from Josephy Kasua (Congo), 11:30 presentation from Katrina Duka (LV) & Barbara Lehtna (EE) – Community and Identity, 14:00 the Book of Riga Launch (UK + LV). The Day finishes in spectacular style with BE WATER, MY FRIENDS (IT) a collaborative dance party with members of the Santarcangelo and Riga's community (from 21:00).
Friday 08.09.
BE PART Symposium. Day three: 10:00 workshop Erased Gazes from a group of artists from Ljubljana; 14:30 Panel on communities as localities featuring Zoe Palmer (UK), Vinny Jone (NL) & Linda Krumina (LV); 15:30 Final Thoughts from the BE PART evaluation team and A BIG SURPRISE! The Symposium will finish in a spectacular style with QUEEREEOKÉ (DE) (from 20:00).
Saturday 09.09.
White Night at Homo Novus – 19:00 'if the world is to mean anything….' featuring a series of films curated by Andy Butler (AU) followed by Rūta Ronja Pakalne & Laura Gorodko (LV) with their dance party – Freedom to lose control together with the many (from 21:00).