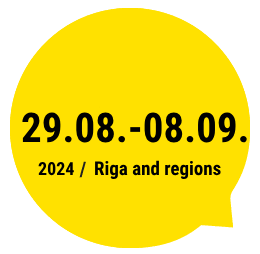 Festival centre
This year, the Festival centre will renew Casino Latvia (Kaļķu street 24, Riga) with performances, parties, dinners, masterclasses and artist talks. This architectural gem is spread over two floors and hosts a theatre, a bar, and a workshop space. This year we will be programming Homo Novus Nights – where we invite artists and collectives to program an evening of events. The artist and line up will be announced by August 20th. All performances, talks, Parties and parties are free of charge.
Friday 02.09.
18.00 Opening Night Toast at Schwankhalle / Deutsch-lettische Freundschaft (German-latvian friendship)
Lecture-performance
Author: Arnita Jaunsubrena
Let's admit, relationships are hard. We as humans know it. You get older, have a lot of work, family… Relationships change, stagnate or end. It is a whole science to maintaine a friendship. In the lecture-performance Deutsch-lettische Freundschaft (German-latvian friendship) the artist Arnita Jaunsubrena tries to investigate the friendship between german city Bremen and latvian city Riga. Because – it is remarkable to sustain a friendship for more than 800 years!
21.00–23.00 Soft Opening & Artist Welcome ft. DJ Ubi Broki (IT)
Saturday 03.09.
19.00–21.00 The Night Must be Caught
Collective opening party by Homo Novus and Survival Kit 13 (more information on page 8). Then to Survival Kit 13.
Sunday 04.09.
13.00-14.00 International collaboration – positive and negative aspects in Praxis
Conversation with Maija Pavlova (theatre producer, Latvia), Zenja (theatre producer, Ru) & Katrin Hylla (artistic director of Schwankhalle Bremen, Germany)
Moderation: Arnita Jaunsubrena (LV/DE)
21.00 QUEEREEOKÉ
Queereoke will be supported by members of the Baltic Drag King Collective (dancing the night away)
With the performative means of spontaneous backup choreography, singing and show effects, every audience member who chooses to perform a song will experience a memorable moment with life-changing potential. QUEEREEOKÉ is not only a celebration of queer life and culture: it is a bootcamp for marginalised people to overcome fears and connect to their vulnerability. Produced by the world-renowned international production house Kampnagel.
Baltic Drag King Collective is a fluid troupe of performance artists that use drag performances as a platform for deconstructing and reinventing gender, educating the society and bringing visibility to the LGBTQ community, focusing on the representation of womxn, trans and non-binary identities.
Tuesday 06.09.
13.00 Artist talk: That's Monumental with Latai Taumoepeau, Brian Fuata & Festival School Participants. In English and Latvian.
15.00-16.00 Belarusian independent scene in the crisis times
A conversation on local and global challenges that brought a new paradigm of existance for the banned art and displaced artists: surviving, reflexing, changing.
21.00 "Dzejas dienas" (Poetry Days): The Latvian PEN Chanting
Before it became written, poetry was a verbal art form – recited or sung to remember events, lineages or laws. It also helped find order in chaos and ease daily burdens caused by others or oneself, to tell others what it looks like when the Earth turns around so it seems that the red ball of the Sun disappears behind cairns of purple waves.
The Latvian PEN chanting will feature Anna Auziņa, Aivars Eipurs, Inga Gaile, Aļesja Loseva and Ivars Šteinbergs.
Wednesday 07.09.
13.00 Artist talk: Let's talk about the wheelchair in the room: Accessibility and Representation in the Performing Arts
21.00-23.00 Ukrainian nights: dinner stories "RETURN WITH A DREAM" (In Russian / Ukrainian with translation in Latvian / English) invites visitors to the festival centre to revive the traditions of Ukrainian cuisine together with Ukrainian women and discover the life story of each woman. In the course of the evening, we will openly talk about how life has changed by the war – about how it started, who stayed at home, whether they managed to settle here, as well as how beliefs and values have changed. Olena from Poltava, Natalya from Kropivnitsky, two Tatyanas from Kharkiv, Antonina from Odessa, Lana from Rivne, Valentina and Yaroslava from Kyiv, Irina from Izyaslov, Ludmila and Irina from Brovari take part in the story. Director Laura Čaupale.
Created together with "Borščs – vakariņas pie ukrainietēm", Community center for Ukrainians in Riga "Common ground".
Implemented as part of Magic Carpets project. Supported by EU programme Creative Europe.
Free entry. The number of places is limited, please arrive on time.
Thursday 08.09.
13.00 Artist talk: Moving into Darkness – Choreography in the negative
Conversation with choreographer Agnietė Lisičkinaitė from Lithuania and activist and choreographer Viktor Ruban from Ukraine.
Russia's brutal war of aggression against Ukraine violates international law in a profound way and threatens to destroy our European peace order in the long run. It shows once again how vulnerable our societies are, because old certainties are being profoundly shaken and our view of the future is linked with uncertainty and fears. What role can, should and must the arts play in this situation? To what extent do these experiences influence and change the arts in turn?
21.00-23.00 Ukrainian nights: songs and stories (In Russian / Ukrainian with translation in Latvian / English) with Tatjana Ibraimova and other women who came to Latvia fleeing the war in Ukraine. The Ukrainian night began for all of us on February 24 at 4 a.m. We've all been waiting for the sunrise ever since. This new sun will become a symbol of our victory over darkness and evil. We invite you to a performance dedicated to teh children of war and their parents, to the birth of the sun, accompanied by Ukrainian songs and lullabies, prepared for you by war refugees from Ukraine.
Created together with "Borščs – vakariņas pie ukrainietēm", Community center for Ukrainians in Riga "Common ground".
Implemented as part of Magic Carpets project. Supported by EU programme Creative Europe.
Free entry. The number of places is limited, please arrive on time.
Friday 09.09.
13.00 Artist talk: New writing on the stage – How to tell a story now?
Saturday 10.09.
No public programme today – we are all at The Shake Down (Brīvības iela 109)
Sunday 11.09.
18.00-20.00 Satori readings on pleasure (in Latvian)
First public readings of the works created in "Satori" authors' camp. The tenth annual summer camp of the authors of the internet magazine "Satori" was dedicated to the theme of pleasure. It gathered about 30 Latvian writers who reflected on the subject in poetry, prose and essays, revealing the obstacles in the human mind that prevent us form havin a respectful, shame-free and liberated love and life.
20.00–23.00 Closing night party with Baltic Take Over and Perel
Baltic Take Over – join us as we officially launch the new website and new festival presented by Lithuanian Dance Information Centre, Kanuti Gildi Saal and The New Theatre Institute of Latvia/Homo Novus. From June 7–11 nine artists/collectives will take over Helsinki in collaboration with URB festival/Kiasma, Annantalo, Virrus Theatre & Madhouse Helsinki.
BALTIC TAKE OVER ARTISTS: Kvadrifrons (LV), Laukku (LV), Association Sansusī (LV), Be Company (LT), Anna- Marija Adomaitytė (LT), Povilas Basty (LT), Karolin Poska (EE), Liisa Saaremäel (EE), Johhan Rosenberg (EE)
Perel will share excerpts of discoveries from the masterclass Rename and Unbody – Somatic Awareness and Language for Who and What We Are.