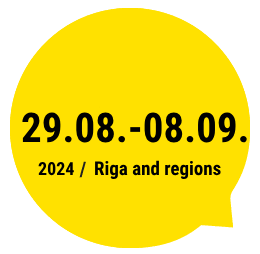 Info
The International Festival of Contemporary theatre, "Homo Novus" announces the first artists from the 2022 program
Bek Berger | Programme curator
Now it's 27th year Homo Novus will once again fit comfortably back into theatres and remain in the streets, the villages and beyond. This year's program invites familiar faces, commissioned works closer to home and continues the festival's commitment to present works from artists who practices are not represented locally.
At the core of this year's festival is collaboration and giving space to other artists – on their own terms. The Shakedown a collaboration with Rosendal Theater, Trondheim, invites 5 Latvian and 5 Norwegian teens to curate the final weekend of the festival; Schwankhalle Bremen travels to Riga (we are sister cities after all) presenting eight 1-on-1 works as a first in a series of exchanges; and lastly we generate a cultural connections between ANTI festival in Kuopio, Finland – bonded together in two new commissions as we continue our mission to generate connections between out cities.
This isn't the final announcement, We just want to spark curiosity and inspire diaries to be reserved. The full program and tickets will go on sale in mid August.